Interview with Christine Plays Viola
Christine Plays Viola have been one of the most interesting bands on the darkwave/new wave scene since their beginnings in 2008. Originally from Pratola Peligna (Italy), their originality has been captured in three albums and several EPs, which are now joined by their new album, Fading.
We talked to Massimo Ciampani, the band's singer, to find out some of their key points.
First of all, are you all right? Italy has been one of the European countries most affected by the coronavirus. How have you endured the pandemic? Do you have more freedom of action now?
Thanks Daniel, fortunately for us, the area in which we live has not been very affected by the virus, but we have many friends who have not been so lucky. The pain of seeing all those dead people and the impotence of not being able to avoid them are fragments in our mind that can hardly disappear.
In this period we had a lot of time to reflect on these emotions, day after day they became more and more vivid until they turned into real nightmares. In the tragedy, we seized the possibility of being able to translate these nightmares into music.
Today where everything seems to slowly start again, walking on the streets we have more freedom of movement, even if in people's eyes there is a fear of others and this challenge among the many that will have to be overcome, victory is not so obvious; perhaps even after this whole affair will be over.
How did Fading, your new album, come about? Has it affected or influenced the pandemic in any way?
Fading was born several months ago, before the COVID-19 made its appearance. You who have known us for a long time, have certainly noticed the fact that in our productions, we need to change songwriting, a sort of continuous evolution of our concept of making music.
The initial idea for this album was to compose it completely in acoustic, then as in all productions we start from an idea, then move on to another and so the project has been enriched with further ideas up to the final version. In this album, acoustic, electronic, rock, ambient music coexist, all tied up with our way of seeing music. I think that in this album too we have remained as honest as possible with ourselves, without seeking forcing or unnaturalness.
Is there an underlying theme in Fading, as there was in Spoky Obsesssions (2016)?
Here's the mood of the album "Fading", introduced by the following presentation.
The slow fading of pain, the weakening of an opaque and submissive mood are small steps that lead us to acquire a new awareness, to cultivate a new hope. Aware of the risk of facing a life full of pitfalls, lost in the shadow of remorse that takes us away … far away, mindful of our dark past and after years spent fighting the clouds that clouded our mind, we challenge ourselves.
Now we can find the answers to take care of us and not to fall down by appealing to values ​​such as love, friendship, our faith, our intimacy: a boundless ocean where we can still find meaning to continue living. All this wandering of the soul that seems to allude to a fantastic and impossible dream, on the contrary makes us the last great heroes.
Fading shows a change towards more intimate environments and a greater presence of acoustic instruments. Do you think this is a sign of maturity, or just another step on your path?
As I said before, you have known us for a long time, and in fact you have totally hit the mark. The initial idea of wanting to compose an acoustic album put us in the typical conditions of the songwriter only with his acoustic guitar or with a piano. So, the approach with the songs was more intimate and delicate, while always dealing with psychological and profound issues.
One of your characteristics as a band is the capacity you have to surprise in the development of your songs, taking paths that are not obvious. How do you achieve this? Is it something intuitive, or does it depend more on discipline and will?
The fact that we want to change every time, we feel it as a necessity makes us feel alive with music, probably when one day we will no longer be able to do it, it will mean that the project will have come to an end; I don't think this time has come 😉
Your previous album, The bounds should be only silver threads (2018), was released in digital format. With its length of seven tracks, I think it was a good candidate to be published on CD or vinyl. Have you ever thought of publishing it in physical format?
When we released that EP, the idea was to feed our fans songs born from cues and fragments that had been in the pipeline for some time and we tried to assemble them by giving them our style without giving up experimentation and slightly different solutions: in my opinion "The bonds …" can be read as an experiment in its own right but it is not excluded that in the future we may decide to publish our various EPs on a single CD.
Spooky Obsessions stuck in my memory as a rather dance-oriented album, with a mix of rock, synthesizers and catchy rhythms. What led you to this orientation? Also, I think there is some influence of Dalis Car in the bass of the track NDE (Life Beyond Life), is it so?
Yes, with "Spooky" we wanted to experiment a lot on the aspects you mentioned, also because in some ways we found ourselves almost obliged to choose this type: in the previous training we had a drummer in flesh and blood who by force of things gave a very cut different to the band and consequently to our sound which was more tribal and "rock oriented". When we decided not to find a substitute but rather to favor the use of synths and drum machines, our sound was affected and certainly the more electronic aspect and if we want to "the danceable" it came out more.
As for the second part of your question, I can tell you that the calls to the sound of Dalis Car are absolutely not wanted but I cannot deny you that the influences of the darkwave scene of the 80's, especially Anglo-Saxon, are absolutely present together with some synth-pop oriented sounds always from the 80's.
Although your dark side is obvious, I think that new wave and other 80's genres are also present. What have been those influences beyond darkwave? Any bands in particular?
Yes, as I told you our influences are mainly due to the great 80's darkwave scene and we are talking about bands like The Cure, Joy Division, Bauhaus, Sisters Of Mercy, Fields Of The Nephilim, Siouxsie And The Banshees… but we fish with plenty of hands even by more "pop" bands such as Duran Duran, Depeche Mode and other typical bands of that period.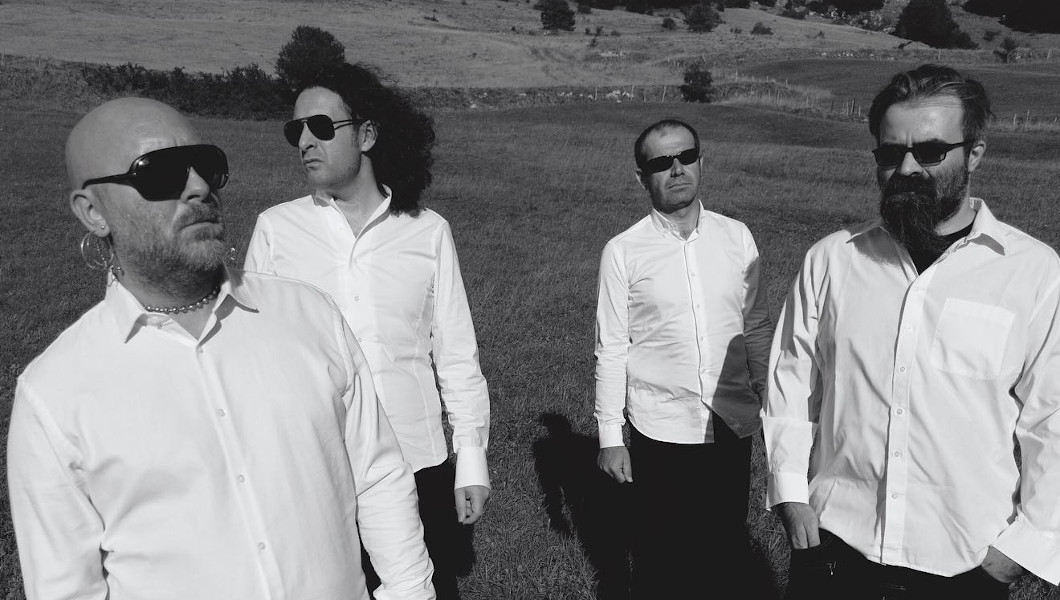 What bands have you been listening to at home, during confinement?
Personally I am an "omnivore" from a musical point of view and I really listen to a lot of music without many gender distinctions: premising that darkwave and metal are definitely the genres I prefer, I listened to many very interesting records.
Among the records that struck me most in this period are the following: Katatonia "City Burials", Spectres "Nostalgia", Sure "Twenty Years", Forgotten Tomb "Nihilistic Estrangement".
With the resurgence of post punk and synthesizer-based darkwave/coldwave bands, what do you think about the current trends within the dark and independent scene?
In my opinion, the darkwave scene is experiencing a golden age because there are really many noteworthy realities, however, I cannot fail to highlight that the solutions more related to the use of the synth and therefore more dance-oriented are starting to be a little too inflated and sometimes I struggle to distinguish individual bands. I mean that in my opinion many bands have little desire to take risks, to contaminate their sound and focus on danceable and easy-to-catch songs on the public not particularly elaborate from a strictly compositional point of view.
This inevitably affects the market as the public's interest in certain sounds is certainly higher than for a sound like ours, for example, and all this implies even less opportunity to perform live. But this… is just my personal opinion!
Do you have any plans for future music videos or concerts?
Before the pandemic closed everything, we just had time to shoot the video of Through The Night, which will be the second single from Fading.
About the gigs at the moment we are following the evolution of the pandemic carefully, I hope that the relevant bodies will soon write certain rules, because at the moment uncertainty seems to reign.
It was a great pleasure to interview you, is there anything else you want to add?
Thank you very much for dedicating your attention to us and we hope to play one day in your wonderful city!